The OUTDOORS
WEEKEND WITH THE BOYS, GIRLS
GET-TOGETHER OR BRING THE WHOLE FAMILY.
The trails offer an getaway for the whole family. No matter the recreation you wish to enjoy, we have something for every family. Take time away from the busy city life to enjoy the fun and excitement of the outdoors.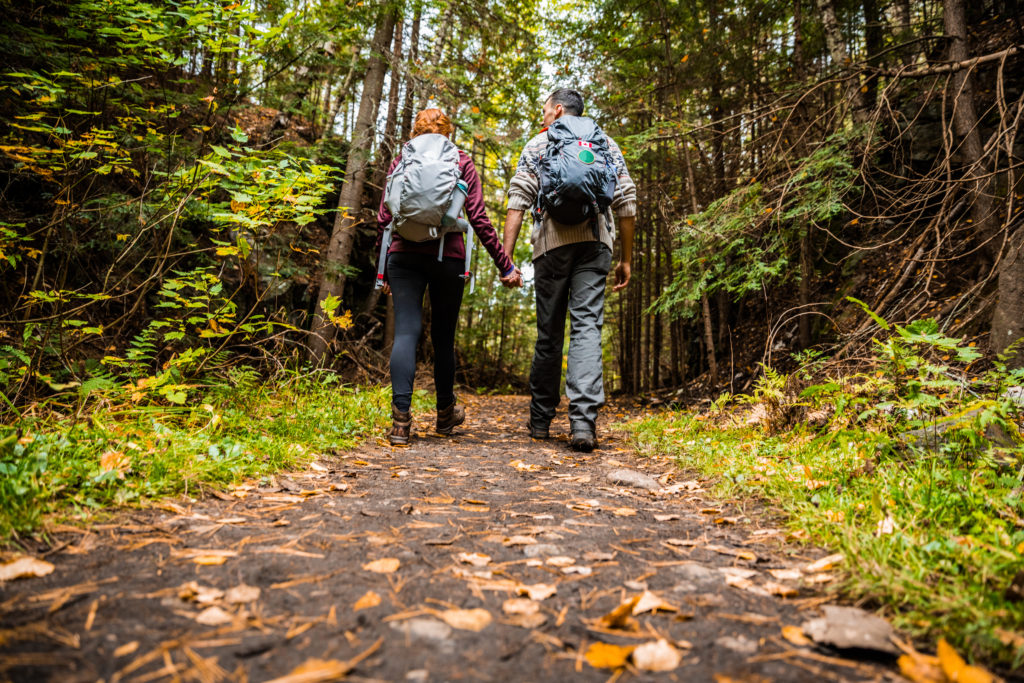 Bridges & Trains
History buffs find many old and new bridges that have been used for many years and which were used by the trains that travelled along the old railway tracks.
Rockin It
Wandering from north to south and east to west the land goes through an array of changes as the granite shield of the north runs into the limestone base of the old Ontario Lake bed to the south. In the north, the geology is very very old, the worn remnants of mountain ranges from long ago. Some of this rock is 2.5 Billion years old. In the south, if one takes the time to look at the limestone, they might see fossils of animals that lived in the now gone lake 160 million years ago.
Nature, Animals & Birds, Oh My!
There is an innumerable amount of wildlife to be cherished on and around the Eastern Ontario Trails. Birdwatching is a fun activity. Watch out for some of the loveliest species of our fine feathered friends.
Rules & Regulations
Trails are a wonderful way to spend an enjoyable day, relaxing and taking in the sights. You will see some spectacular scenery and natural areas as you travel the trails. We ask that you observe these few rules of the trail etiquette so that everyone's outing will be fun and you will help preserve trails for future generations.
Please stay on the main trails! Some areas have rare sensitive plants and small animals that can be easily damaged or destroyed. Don't make new trails or use unmarked (unsigned) trails.
Some areas may require user fees. Please prepare to pay a fee.
Please respect neighbouring landowners by staying off private trails and property. Avoid excessive noise.
Please leave the trail as you found it; whatever you pack in, pack out.
Please leave the wildflowers and wildlife for others to enjoy.
Keep dogs on a leash at all times while on the trail.
ALL USERS to slow to a walking speed when meeting up with other USERS and be prepared to stop.
Respect and be courteous to other users who are also using shared use trails. Always yield right of way to other trail users who are approaching or passing. Be certain to communicate in advance with riders of Horses, Dog Teams and those walking pets.
Use bridges for water crossings.
Please slow down when your vision of the trail is restricted.
Avoid sudden stops and starts and quick directional changes with acceleration.
When snow grooming is occurring we ask that off road vehicles (i.e. ATVs) stay off the snow groomed trails as a courtesy, so both recreational activities are able to co-exist
Ontario ATV Regulations
ATV Bylaws
List of regions that have passed a bylaw allowing ATV's on the road:
Municipality of Hastings Highlands
Town of Bancroft
Township of Faraday
Township of Carlow Mayo
Township of Tudor & Cashel
Township of Limerick
Township of Wollaston
Township of Madawaska Valley
Township of Killaloe, Hagarty & Richards
Township of Brudenell, Lyndock & Raglan
Township of Addington Highlands
Township of Laurentian Hills
Township of Greater Madawaska
Township of Admaston/Bromley
Township of Horton
Township of Renfrew
Township of McNab-Braeside
Town of Arnprior
Township of Montague
Township of North Frontenac
Township of Tay Valley
Township of Central Frontenac
Township of South Frontenac
Lennox and Addington County
Municipality of Marmora & Lake
Township of Madoc
Municipality of Tweed
Township of Stirling-Rawdon
Municipality of Centre Hastings
Township of Tyendinaga
Quinte West – Just N of 401
Township of Stone Mills
Town of Greater Napanee
Loyalist Township
Prince Edward County
Township of Cramahe
Township of Alnwick-Haldimand
Township of Havelock-Belmont-Methuen
Municipality of Highlands East
Trent Hills
Lanark County
List of regions that have not passed a bylaw allowing ATV's on the road:
Town of Deseronto
Quinte West – Southern half
Ride Sober
Refrain from using drugs or alcohol before and during the time you operate a motorized vehicle (including an ATV). It's the law.
Wear the Gear
Always wear an approved motorcycle helmet and proper eye protection (protective goggles or face shield).
Slow Down
Obey speed limits. Travel a maximum of 20 km/h on roads with a limit of 50 km/h; a maximum of 50 km/h on roads with a limit of more than 50 km/h. Observe a 50 km/h speed limit while on trails on your ATV.
Be Realistic
Prevent kids under 16 from operating an adult-size ATV. They lack the strength and skills to do so.
Follow the manufacturer's recommendations for passengers. They can affect the stability and control of the off-road vehicle.
Be Prepared
Carry a safety kit that includes flares, flashlight, compass, blanket, first aid supplies, matches and a sounding device. Carry a cell phone and consider GPS equipment.
Train With an Expert
Take a rider training course from an expert. Good training will make you more skilled and confident on your ATV.
Check Your ATV
Do a safety check on your ATV before each ride. Check oil and gas levels, brakes, lights and winch.
Know the Laws
Carry your documents when you ride on roads. The law requires you to carry a valid vehicle registration, vehicle insurance and driver's license (G2, M2 or higher.) An EOTA trail permit is also required on trails along with these documents. For permit purchase call: EOTA at 613-478-1444 or 1-877-889-8810 or visit www.thetrail.ca
When riding on trails STAY ON THE TRAIL.
Have insurance coverage for the use of an ATV while off personal property.
Refer to the Ontario Highway Traffic Act and contact the municipality where you plan to ride for information about ATVs on roadways.
Drive your ATV in the same direction as traffic on roads and as far to the right as possible. Wear an approved helmet. Passengers are not permitted on roadways and are not recommended on the trail system.